Launie
About Launie
Launie Kettler is a food writer/photographer who lives in a "suburb" of Burlington, VT. She cooks big food in a small kitchen, and her husband and cats are tolerant of the fact that she plays the same Wilco and Son Volt albums over and over while pontificating about the beauty of cumin.
Her food blog, Teeny Tiny Kitchen, was featured on Jamie Oliver's Food Revolution, and her writing has been linked to by CNN and the L.A. Times. Launie is a recipe developer who's had her recipes featured in Fresh Magazine, and on Punk Domestics, Cheese Culture Magazine and Salon. She is the co-author of The Everything Mediterranean Slow Cooker Cookbook.
Launie's
Work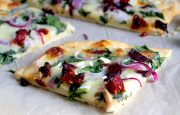 Being diabetic doesn't have to end your love of pizza. Indulge in this delicious Greek-inspired diabetic pizza with this recipe.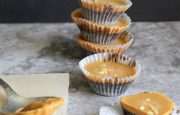 Fulfill your sweet tooth craving with these delicious unsweetened chocolate and almond butter cups – packed with vitamin E, iron, magnesium, and zinc.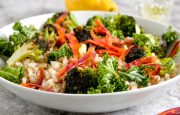 Barley is loaded with health benefits — not to mention the fact that it's delicious and nutty, and it pairs beautifully with practically anything savory.